Introduction
If you have $1000 and aim to make 5 successful trades of only 2% gain each, it is very much possible to make $100 a day trading crypto.
As much as it sounds lucrative, trading crypto is risky and it comes with its own set of challenges. It is one of the most volatile assets that you would find across any asset class.
In this article, I will discuss how you can safely make $100 a day trading crypto by following some basic guidelines and mitigating the risks appropriately.
Key Takeaway
Pick a crypto that you understand well
Put only a percentage of your capital into a single trade
Aim to make multiple small 2-3 % gains on every trade using the strategy outlined in this article
If you have $1000 and only make 5 successful trades of 2% gain you will have more than $100 gain at the end of the day.
Things to do before starting
Before you start trading on crypto there are some basic points that you should always be mindful of and consider otherwise it has the potential risk of losing your entire capital.
Educate yourself
The first and foremost important thing before you start investing or trading anything on crypto is to give yourself some time to get the right education on crypto. What it is, and how it works. Every crypto tries to solve a problem and works differently. So it is important to learn about the crypto that would like to trade. I would highly recommend always sticking to a few cryptos that you understand well. Do not try to switch between cryptos based on hypes or all the information shared all across the internet.
Selection of crypto exchange
With the current news of the bankrupt crypto exchange FTX, it is far more important to choose your crypto exchange carefully. There are many crypto exchanges that have now declared bankruptcy and we don't know what is in store for the future.
There are many exchanges still out there to choose from and each of them has its unique set of features with respect to reliability, user-friendliness, and security. So always do your own research before selecting a crypto exchange for trading.
Personally, to execute this particular strategy I have used pionix app which worked out pretty well for me.
Stay current with the latest trends
When it comes to crypto or stocks investing it is of utmost priority to stay current with the latest news and what's happening around the overall market. Follow cryptocurrency news and social media accounts to stay informed about market conditions and developments. This will help you to make better at decision-making at the right time with all the facts.
Be patient and disciplined
Patient and discipline is the single most important key between a bad trader and a good trader. Your patient will be tasted to the core in the trading world. You have to practice not getting caught up in all the hoopla around you.
You should learn the difference between good and important news vs hype and incorrect information that's floating around the internet. Always make a trading strategy and stick to it ignoring all the nonsense.
How to minimize Risks
The key to trading crypto is to understand how to manage the risks. Your main aim at all times should be to safeguard your capital. To reduce the risk you should never put 100% of the capital into a single trade instead always keep a good cash reserve and only put a percentage of say 20-30% of the total amount into a trade. For example, if you have $1000 in a trading account then do not put more than $200-$300 dollars into a single trade.
Read: Five reasons why people fail in the stock market
Another way to reduce the risk is to keep a separate account for your holding crypto account vs trading crypto account. Never ever mix the two accounts. Your holding account will you give a sense of safety in case your trades don't go your way in the trading account.
Things you need to execute strategy
To successfully execute this strategy you don't need to learn any complex trading patterns but you do need these three things in order to successfully execute it.
TradingView Platform
You need an account in the TradingView platform if you don't already have one. It is the most popular platform for doing technical analysis and more. They do have a pro version which definitely is a plus however for this strategy it is not an absolute must.
An account with any crypto exchange
You will also need an account on a crypto exchange. There are many options available to choose from. I have been personally executing this strategy using Pionix however you are free to use any other platform that you prefer.
LuxAlgo
This is something optional but if you want to take this strategy a level up and mix it with some help from AI then this is one of the best in the market. I have used this and it has made my decision-making much simpler and improved my odds of winning by several percentages. You can find all the details about it here.
Strategy Steps
The first step in this strategy is to pick a crypto that you understand well. You should be familiar with the crypto price points and allow yourself to follow the price for a period so you get a general idea of its price volatility.
The second step is to understand a technical indicator called RSI ( Relative Strength Indicator). In very simple terms, this indicator signifies if the crypto is oversold or overbought. If the RSI is below 30% then it is in the oversold category and if it is more than 70% then it is an overbought category.
The third step is to open the TradingView chart for the crypto you want to make the trade and set the interval to 5 min.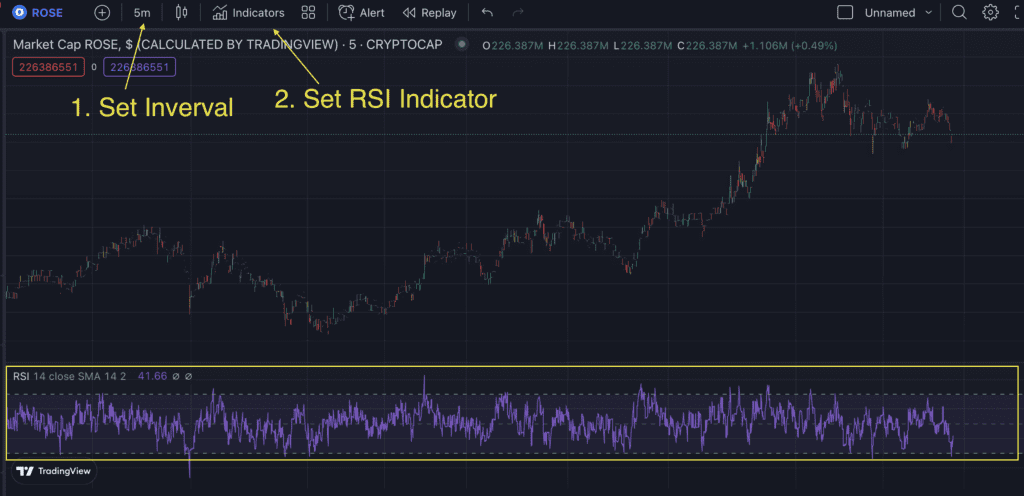 Now click on the indicator and add the RSI indicator to the TradingView chart.
The final step is to place the trades. You place the buy trade only when the RSI is below 30%. This is very important to ensure the success of this strategy. You need to be patient and wait until you get a clear confirmation of RSI going below 30% which indicates oversold territory.
Now, wait until the RSI goes back above 70% to place your sell trade, and remember we are only aiming for small gains here so do not be greedy and book your profit as soon as RSI hits around 70%.
Now repeat the whole process of buying and selling by keeping close track of the RSI indicator.
Below is an example of one of the trades successfully executed using the same strategy.
The green thumbs are the points where RSI dipped below 30% on the RSI chart and that's the buy signal. And the red thumbs down are the point where RSI went above 70% and that's a sell signal.
You can see that after the buy signal, the crypto moved up and after the sell signal it went down. Do note that at times it may move in a range-bound fashion and you need to be really patient to place your buy/sell trades.
Also do remember to get out of the trade once you hit 2-4% profit and do not be greedy to wait to lock in more profit.
Crypto is volatile in nature and the crux of this strategy is to take the volatility to our advantage and make at least 5 successful trades. Set a specific goal for the day and once you hit your daily goal exit trading for that day.
Now to take this strategy a level up you can get the help of AI and sign up for LuxAlgo . This tool will help you to give a very clear buy and sell signal by following the movement in RSI automatically for you. You just need to wait for the signal and place your trades accordingly.
FAQ
How to earn $100 dollars a day with crypto?
If you have $1000 and aim to make 5 successful small trades of only 2% gain each, it is possible to make $100 a day trading crypto. You just need to follow this strategy and the guidelines associated with it.
Can you make money day trading crypto?
Yes, you can make money day trading crypto. You just need to be patient and use the volatility in crypto to make it work to your advantage.
Can you make money investing $100 dollars in crypto?
Yes, you can make money investing $100 dollars in crypto. However, you have to have some very important traits when trading crypto and properly mitigate the risk. I have outlined a strategy that worked for me in this article which has given me proven results.
Conclusion
To conclude, this is a strategy that has worked for me to make $100 a day trading crypto. However crypto falls in a risky asset class and therefore you need to have a very clear mindset, follow all the guidelines and manage your risk appropriately.
Disclaimer: I would like to mention that I am not a financial advisor nor anything that I have mentioned in this article should be considered financial advice so please make sure that you always do your side of due diligence and research before implementing this strategy.