Netflix's (NFLX) Account Sharing Policy had been adjusted, In a recent announcement, they informed its users that paid Netflix accounts will now be limited to immediate household members of the subscriber. The company presented two options for out-of-household users: they can either start their own subscription or be added as a member to the household for an additional $7.99 per month.
Netflix had previously experienced some loss of international users due to its testing of password crackdowns. However, despite this setback, the company managed to gain nearly 2 million new users in the last quarter.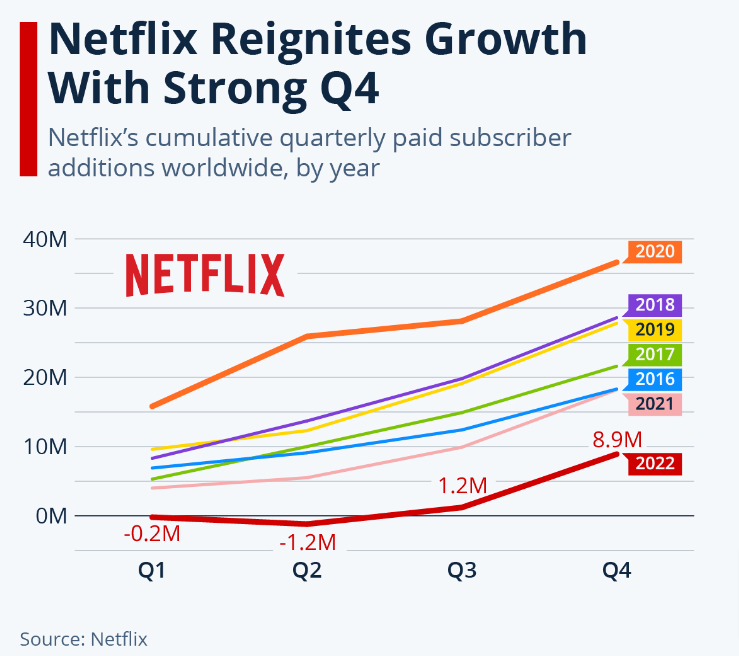 According to Netflix, there are currently over 100 million people worldwide using an account they do not pay for, although the company does not provide a breakdown by country.
What to expect in the longer run
We believe that in the immediate term because of Netflix Account Sharing Policy Adjustment, Netflix may witness a drop in its subscriber count due to this policy change. However, in the long run, this adjustment should lead to an improvement in Netflix's overall operating margin.
Also Read: ARK Funds Acquire Palantir Shares in Bulk
Currently, there are numerous subscribers who enjoy the service without paying. As Netflix continues to enhance the quality of its content and invest in producing engaging shows and movies, we expect the lost subscribers to return.
Additionally, the new policy will prompt those who wish to access Netflix and its vast library of series and movies to opt for at least the lowest subscription plan priced at $7.99.
According to our view, this move by Netflix is expected to be highly beneficial for the company in the long run.