Whether you are a beginner in investing or you have been doing it for years, there is one thing that you have likely done is mistakes. As a human, it is very natural to make mistakes and stock market investing is no exception. This is where Trading Journal plays a big role.
However, the one factor that separates good investors from others is how quickly and what they learn from that by analyzing your mistakes and keep improvising on their strategies. And this is where proper journaling comes into play.
Journaling is a very powerful tool for anyone in the market whether you are a trader or a long-term investor. Keeping a record of your strategies with a profit/loss track helps you to look back and improvise on it.
Over the past years, journaling tools have improved a lot and it's not merely a tool to record your profit and losses. A modern-day journaling tool gives you so many features to help you become a strong navigator of the market that includes but are not limited to features such as simulators, charts, emotional analytics, etc.
In this article, let's discuss my top five journaling picks. All of them come with some form of the trial version that you can try before considering buying a paid subscription. However, it may be a tiresome job to evaluate each of them therefore I have tried to list down my research and experience about all of these platforms.
1. TraderSync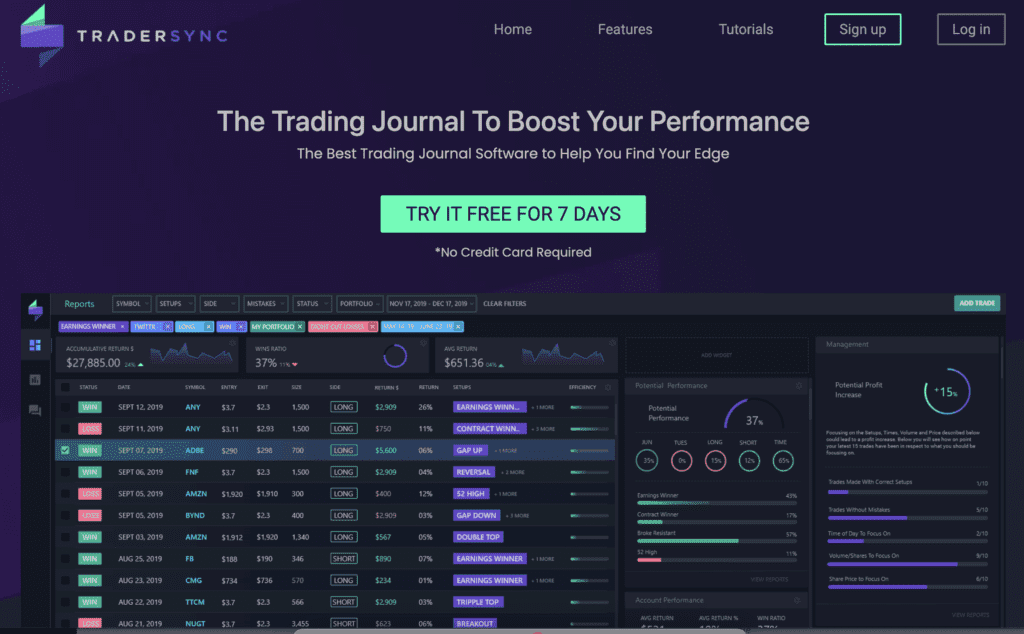 Key features:
Integration with several brokers
Auto and manual import of data
Mobile App for iOS and Android
Multiple portfolios
Performance reports
Simulator
Trade management
Artificial Intelligence insights
TraderSync Pricing
TraderSync offers multiple pricing tiers starting from $26 all the way to $69.50. Do note that the subscription prices listed here are as of the writing of this article and may change in the future. Follow this link for the most up-to-date information on pricing.
2. EdgeWonk
Edgewonk is probably the second best in this list after TraderSync. When Edgewonk initially launched they only had a desktop application that required installation in the system. However, with the evolution to Edgework 3.0, they are completely cloud-based and added a lot of features. It provides pretty good performance analytics which analyzes every aspect of your trading and helps traders make targeted adjustments to improve every area of their trading.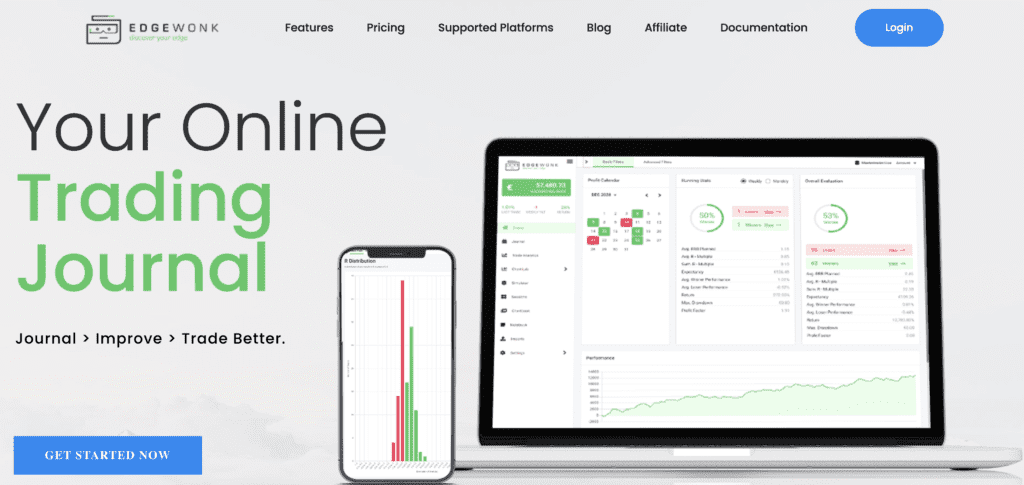 Key Features:
Access from a browser
Import trades from broker
Tagging and filtering
Advanced Reporting
Add notes to trades
Track multiple accounts
Trade insights
Trade simulator
Risk tracking
Profit calendar
EdgeWonk Pricing
They have a flat yearly pricing of $169. Please note this pricing is as of the writing of this article and may change in the future. Follow this link for up-to-date pricing information.
3.Trademetria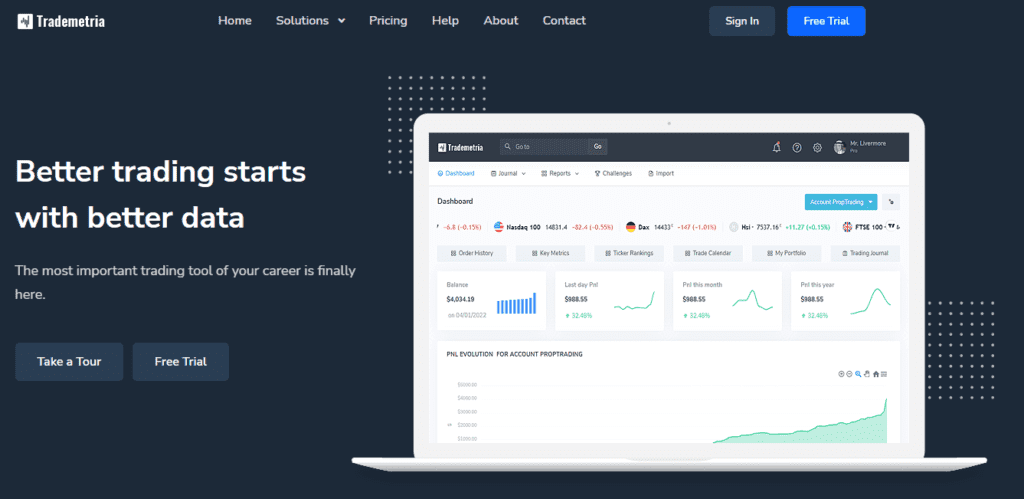 This trading journal software is a great choice with a free tier that would work for not-for any beginner traders who are not very active in trading. It also has a good amount of integration though compared to TraderSync has less broker integration but still has plentiful of them including the most popular brokers so you should find your broker in the list. This has a full WYSIWYG editor, automatic chart displays for your entries and exits, and advanced intraday performance. On top of that, it also allows you to run simulations using your past trades.
Unfortunately, this lacks a mobile app so if you are someone who likes to do more on the go then do not go with this one.
Key Features:
Trade history calendar
Portfolio tracking
Trade reports
Entry/exit locations on a chart
Intraday trading reports
Trade rankings
Trading metrics
Trademetria Pricing
They have a free tier with a good amount of features. The subscription prices are valid as of the writing of this article and may change in the future. Follow this link for up-to-date pricing information.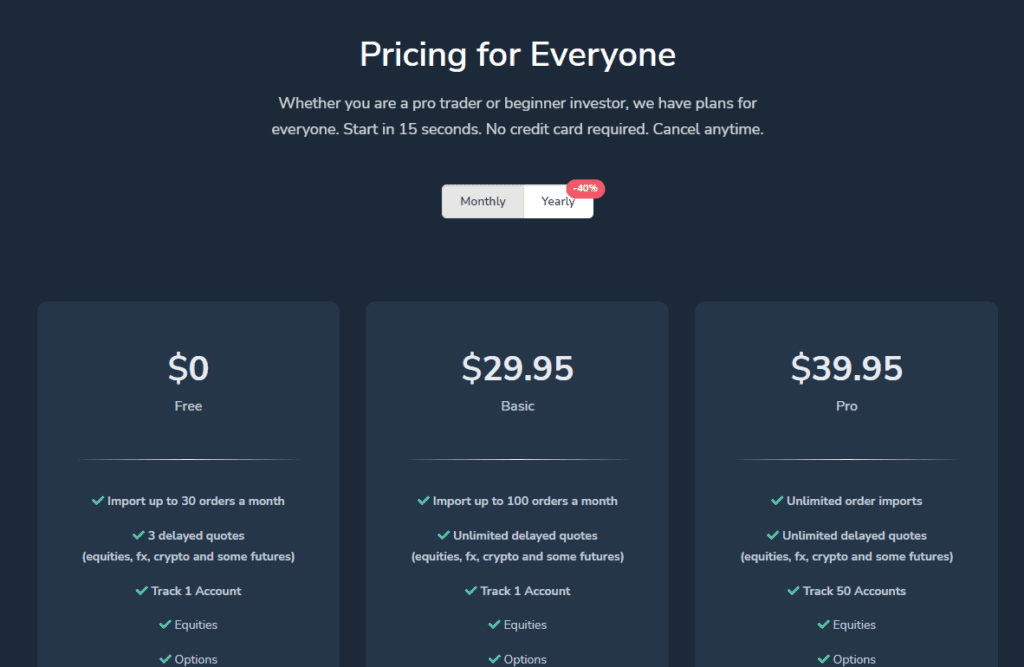 4. TraderVue
Tradervue is considered to be the pioneer of the trade journaling space. However, we can argue that its functionalities aren't as advanced as the ones of EdgeWonk.
However, it comes with journal features, analytical features, and even a unique sharing feature. Tradervue's users can share their past performance history and analytics with peers from the community. That way, they can brainstorm, analyze, and discuss trades and strategies.
Key features:
Auto-import
Trade notes, filtering, and tagging
Automatic price charts and chart studies
Detailed reports and statistics
Risk analysis
Sharing features with privacy settings
TraderVue Pricing | TraderVue Discount
TraderVue basic plan is to attract beginner investors.  The subscription prices listed here are as of the writing of this article and this may change in the future.  Follow this link for their latest pricing. 
5. Good Old Spreadsheet

You can never go wrong with managing trades by yourself the old-fashioned way. This is a flexible, simple yet effective way to manage your trades. Google Sheets has a lot of built-in functions that support a lot of financial market functions. Using all these functions you can actually build a powerful trading journal with some effort.
This is a very good option for new investors who do not place several trades on daily basis or if you are not yet ready to spend subscription costs for all the aforementioned journals that we discussed here.
GOOGLEFINANCE is a great function that you can leverage to customize your reporting and journaling needs. However, if you are a very active day trader who places multiple trades every day then this option is not suitable as it would take a lot of effort
With that, I hope you have a good understanding of all the trading journals that we discussed here and this would help you to make a speedy and better decision when choosing your trading journal. If you have any questions on any of the points discussed here please reach out via our contact us form or email [email protected]