If you're interested in gaining insights into the future performance of NVIDIA and NVIDIA stock forecast, you've come to the right place.
In this article, we will provide a comprehensive analysis of Nvidia's stock forecast for the years 2023, 2025, 2030, and beyond. Our predictions are based on extensive research encompassing financials, historical data, recent quarter performance, and technical indicators related to Nvidia.
NVIDIA ( Ticker: NVDA) Overview
NVIDIA is no doubt a world leader in high-performing chip makers. From gaming enthusiasts to supercomputers and crypto miners, Nvidia's chips have gained widespread recognition for their exceptional performance.
Nvidia's position as the number one leader in the chip industry is a result of its focus on developing cutting-edge graphics processing units (GPUs) and system-on-a-chip (SoC) solutions. The company's commitment to research and development, coupled with its ability to anticipate industry trends, has made Nvidia consistently outpace its competitor's position.
NVIDIA Growth and Competitive Landscape
Nvidia is surely a leader in the chip-making industry, it has revolutionized various sectors with its cutting-edge technologies. From gaming enthusiasts to high-performance CPU users, Nvidia's chips have made a significant impact across the board.
In recent times, the crypto market has emerged as a pivotal area where Nvidia's chips are being widely employed, acting as the primary drivers of revenue for the company. Although there was a slight dip correlated to the crypto market, Nvidia's resurgence is on the horizon, and it is expected to reclaim its previous revenue numbers. Notably, the last quarter showcased Nvidia's prowess by surpassing revenue estimates both in terms of EPS and overall revenue, providing a glimpse of its future potential.
A Closer Look at Nvidia's Business Verticals
When examining Nvidia's revenue distribution across its business verticals, it becomes evident that the gaming sector contributes significantly to its overall financial success. Following gaming, the visualization segment stands out, with automotive and other sectors playing a smaller role.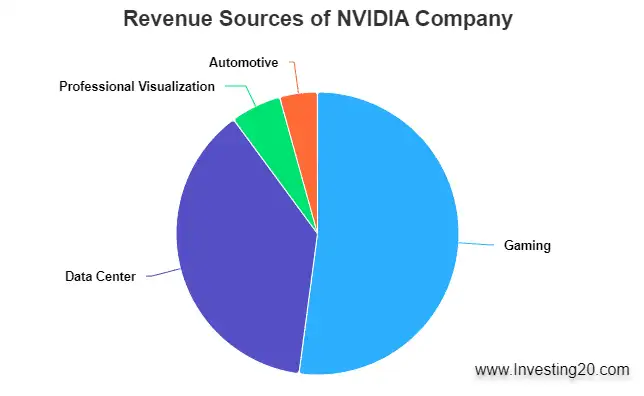 However, the gaming industry has experienced a slight decline in recent quarters, posing a challenge for Nvidia. Nevertheless, the Data Center business presents a promising opportunity for growth. As the current fiscal year progresses, if Nvidia can demonstrate improvements in its data center revenue, it could have a substantial positive impact on the company's overall revenue and profit margins.
Nvidia (NVDA) Stock And Financial Overview
| | |
| --- | --- |
| Stock Name | NVIDIA |
| Ticker | NVDA |
| Website | www.nvidia.com |
| Market Cap | $758B |
| Employees | 26,193 |
| CEO | Jensen Huang |
Let's take a look at the company's finances. The data is sourced in real time from TradingView.
Road Ahead for NVIDIA
Recognizing the immense potential of AI, Nvidia is diligently dedicating its efforts to spearheading the development and collaboration with various companies. Together, they aim to create groundbreaking products that harness the true power of AI at its core.
Nvidia has recently made an exciting announcement regarding its collaboration with Microsoft. The collaboration entails integrating Nvidia's AI enterprise software into Microsoft's machine learning infrastructure, resulting in the creation of an enterprise product. 
This groundbreaking collaboration aims to empower companies by enabling them to accelerate their generative AI roadmap. If successful, this collaboration could potentially become a game-changer for Nvidia, solidifying its position as a leader in the industry.
Dell Technologies and Nvidia have joined forces to introduce an innovative solution called Project Helix.
With the exponential growth of AI and its transformative potential, ensuring the security and confidentiality of sensitive data has become paramount. Project Helix addresses this crucial need by offering a comprehensive and robust solution that enables businesses to harness the power of generative AI while maintaining complete control over their data.
Nvidia Stock Price Prediction and Forecast
Based on all the factors and challenges that we have outlined so far in this article we have established some predictions for the Nvidia stock for the next few years and decades.
While these predictions can provide valuable insights, it's important to approach them with caution, as they may change if there are significant changes in macroeconomic situations.
As with any investment decision, conducting thorough research, consulting with financial experts, and monitoring relevant market developments are essential for making informed decisions regarding any stock.
Here is a snapshot of the long-term forecast for Nvidia stock.
| Year | Minimum Price | Maximum Price |
| --- | --- | --- |
| 2023 | $302 | $398 |
| 2024 | $400 | $560 |
| 2025 | $550 | $700 |
| 2030 | $1200 | $1350 |
| 2040 | $2200 | $3000 |
| 2050 | $4500 | $6000+ |
Nvidia Stock Price Prediction 2023 | Nvidia (NVDA) Stock Forecast 2023
According to industry experts and Nvidia's Financial and Technical analysis, the prediction for 2023 is between $302 and $398. In a bull case scenario, the price is expected to be $398 on the higher side, and in a bearish scenario, it is expected to be $302.
| Year | Nvidia Stock ( NVDA) Price Prediction |
| --- | --- |
| 2023 | $302 – $398 |
Nvidia Stock Price Prediction 2024 | Nvidia (NVDA) Stock Forecast 2024
In the year 2024, Nvidia stock is expected to hit a high of $304 and on the low side, it could go up to $400.
In an exciting collaboration, NVIDIA has teamed up with industry leaders such as Microsoft and Dell to leverage their cutting-edge AI technology. By combining forces, they aim to develop innovative products centered around generative AI, presenting a significant opportunity for NVIDIA to enhance its overall stock performance in the very near future.
| Year | Nvidia Stock ( NVDA) Price Prediction |
| --- | --- |
| 2024 | $400 – $560 |
Nvidia Stock Price Prediction 2025 | Nvidia (NVDA) Stock Forecast 2025
As we look ahead to 2025, a resurgence in the crypto market could serve as a catalyst for NVIDIA's stock performance. The company's fortunes are loosely coupled to the crypto space, and a stable and prosperous crypto market could translate into significant gains for NVIDIA and its investors.
Based on our comprehensive research and informed predictions, we anticipate Nvidia's stock prices to exhibit a movement between $550 and $700 by the year 2025.
| Year | Nvidia Stock ( NVDA) Price Prediction |
| --- | --- |
| 2025 | $550 – $700 |
Nvidia Stock Forecast 2030 | Nvidia (NVDA) Stock Price Prediction 2030
AI is expected to dominate market share in the next decade and that presents opportunities for Nvidia. This transformative technology requires high-performance chips to reach its full potential, and Nvidia is poised to play a significant role in this landscape. If Nvidia can establish a strong foothold in the AI space, it stands to gain a big boost in its stock prices.
However, on the flip side, In the event that AI fails to grow as anticipated, Nvidia would need to rely on its other core business verticals, namely gaming and data centers, to drive its expansion. This would require a focused effort to further develop and expand these sectors. While the potential outcome remains uncertain, Nvidia must be prepared to pivot its focus and allocate resources accordingly if the AI market does not pan out as initially projected.
Based on the current indicators we can expect Nvidia Stock to be in the mid to high $1200 range for the year 2030.
| Year | NVDA Stock ( NVDA ) Price Prediction |
| --- | --- |
| 2030 | $1200 – $1350 |
Nvidia Stock Price Prediction 2040 | Nvidia (NVDA) Stock Forecast 2040
While this scenario is still a long way off if Nvidia can steadily grow all the business verticals and China doesn't present a major hurdle on the supply chain of the chip market then it is expected to more than double from 2030 prices.
Considering a positive outlook for the company, we are predicting Nvidia's stock price in 2040 in between $2200 to $3000.
| Year | Nvidia Stock ( NVDA ) Price Prediction |
| --- | --- |
| 2040 | $2200- $3000 |
Nvidia Stock Price Prediction 2050 | Nvidia (NVDA) Stock Forecast 2050
Taking into account the bullish outlook, it is expected that Nvidia's stock could surpass $6000 by the year 2050. Additionally, it is possible that there may be a few stock splits during this period, resulting in the stock prices no longer being reflected in dollar value.
However, based on our projections, we anticipate that the equivalent value of these split-adjusted shares could reach $6,000 or more. These estimations reflect an optimistic perspective on Nvidia's potential for long-term growth and continued market success.
| Year | Nvidia Stock ( NVDA) Price Prediction |
| --- | --- |
| 2050 | $4500 – $6000+ |
Optimal Entry Point for Nvidia
To identify the optimal entry point, it is crucial to monitor the technical analysis signals of the Nvidia (NVDA) chart on TradingView. A "Sell" or "Strong Sell" signal indicates a predominantly bearish sentiment, suggesting it may be a good time to sell. Conversely, a "Buy" or "Strong Buy" signal implies a predominantly bullish sentiment, indicating it may be a favorable time to buy.
FAQ
What will NVDA price be in 2023?
Nvidia is expected to be in the range of $302-$398 for the year 2023.
What will the NVDA price be in 5 years?
Considering a positive market outlook according to Investing 2.0 team's analysis NVDA price is expected to cross $1000+.
Is Nvidia a Buy, Sell, or Hold?
Based on TradingView technical analysis the Nvidia stock has a BUY rating. Although This could change in the future depending on various economic factors.
Yes, based on our research analysis there are a lot of positive factors and catalysts which indicate a steady upward trend for Nvidia stock in the near to long-term horizon.
Will Nvidia Stock reach $1,000?
Yes Nvidia stock is expected to reach $1000 mark in next 5 year considering a positive market outlook